Inline Static Mixers
Fluid Partners is Westfall Manufacturing's representative for inline static mixers and flow conditioners in the UK and parts of mainland Europe.
Westfall Manufacturing specialises in custom engineering components used in pipeline systems for water treatment, wastewater treatment, petrochemical, chemical, food and beverage industries.
Each product has been designed to solve a customer problem and to perform better than alternative products.
Westfall Manufacturing's range of inline static mixers has recently been selected by Scottish Water for a 6 year framework agreement. Fluid Partners is Westfall's framework manager for the
Scottish Water agreement
.
The Westfall Model 2800 Static Mixer is a full pipe inline mixer in which fluids are injected and rapidly mixed by a combination of alternate vortex shedding and intense shear zone turbulence.
Features:
Excellent mixing
Low cost
Short laying length
Integral injection fittings
Easy installation
Long service life
No maintenance
No moving parts
Available in any material: PVC, FRP, 316SS, Titanium etc.
The Westfall 2900 Variable Flow Mixer was designed to accommodate situations where flow fluctuates widely. A stationary mixer combines with a pivoting mixer plate to adjust incrementally to changing flow conditions. The upstream mixer is fixed, while the downstream mixer responds to differential pressure controller to open wide for maximum flow velocity to reduce headloss and closes as flow decreases to enhance mixing.
Westfall developed the Model 3000 Flow Conditioner in response to a customer's request for a conditioner to use in situations where measurement accuracy and low headloss were of utmost importance. Inspired by studies of the F18 fighter jet, the leading fins of the 3000 create a vortex which is dampened by the trailing fins. The result: full conditioning in 6 diameters.
The unique design straightens out the flow over a short distance and creates the fully developed velocity profile necessary for accurate measurement with minimal headloss. It is particularly effective in situations where there are pipe bends creating swirl and turbulence.

Westfall Manufacturing has engineered and patented a simple but very efficient and cost effective mixer that is in common use in the USA and has recently been selected by Scottish Water for a 6 year framework agreement. Fluid Partners is Westfall's European representative and framework manager for the Scottish Water agreement.
Visit manufacturer's site
.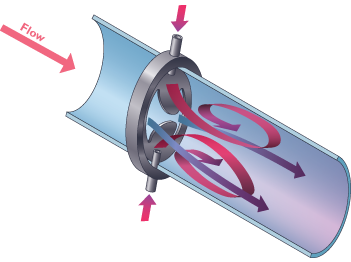 Model 2800 Variable Flow Mixer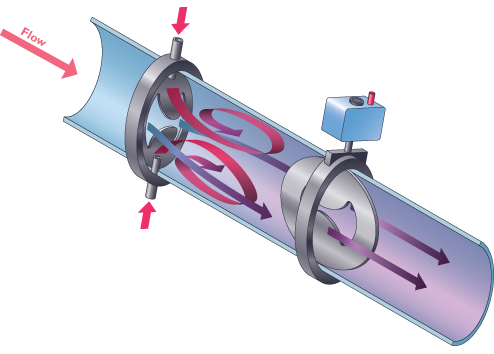 Model 2900 Variable Flow Mixer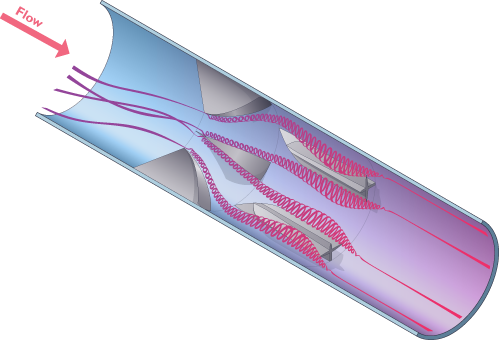 Model 3000 Flow Conditioner